Mississippi Valley Conservancy assumed ownership of Kickapoo Caverns Nature Preserve in Crawford County on August 25, 2017. The 83-acre property includes one of Wisconsin's longest natural limestone cavern systems. The stunning cave features an underground pool and beautiful cave formations. This rare underground habitat acts as the winter hibernating quarters for three of Wisconsin's bat species. Above ground, the landscape showcases a mature oak and hickory forest intermixed with oak savanna, native remnant prairie, limestone cliffs, and rock outcroppings.
Mississippi Valley Conservancy purchased the Kickapoo Caverns from Carole Porter, whose family had owned and cared for the caves since the 1960s. The sale allowed Carole to honor her parents' wishes to protect and preserve the caverns in their natural state. To acquire this unique landscape, Mississippi Valley Conservancy received gifts from individual donors and grants from the Paul E. Stry Foundation, John C. Bock Foundation, Whitetails Unlimited, Clif Bar Family Foundation, Wisconsin Land Fund, and Crawford County Community Fund. These funds were used to obtain a $158,080 matching grant from the Knowles-Nelson Stewardship Fund.
The Kickapoo Caverns provide a critical hibernaculum for the federally threatened northern long-eared bat, the state-threatened little brown bat, and eastern pipistrelle. Flanked by the Wisconsin River to the east, the Kickapoo River to the north, and the Mississippi River nine miles to the west, the cave's location provides the perfect habitat for bat species that use rivers as migration corridors.
The cave system allows scientists to research white-nose syndrome, which has killed over 90 percent of the bat population. The caves also allow people to study geology, natural history, and the effects of climate change within the subterranean environment.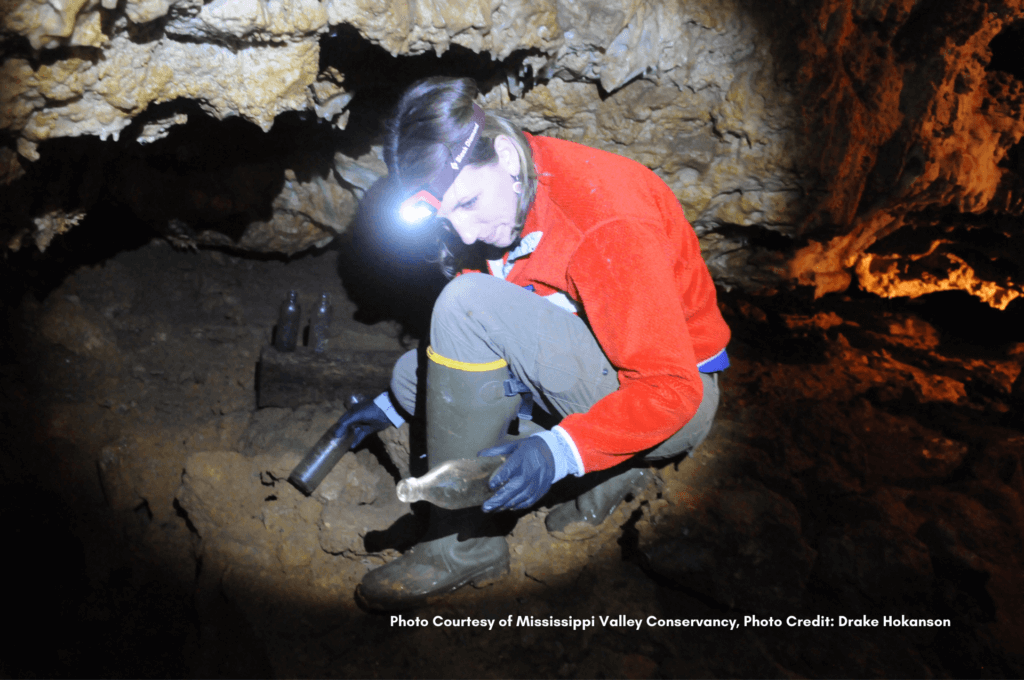 The mature forest atop the caves provides habitat for the state-threatened cerulean warbler while the prairie and savanna habitat are home to the prairie ring-necked snake, another species of special concern.
Kickapoo Caverns Nature Preserve is open for hiking, hunting, birding, and cross-country skiing. The caverns are only open for public viewing through guided tours from mid-May through mid-August. The property is closed to pets, biking, motorized vehicles, caving, and spelunking (cave exploration).
Featured image by Drake Hokanson, courtesy of Mississippi Valley Conservancy, 2020.